---

Almost every day inquiries come in by phone or by mail asking about Evangelist A. A. Allen's ministry. Throughout the states and many foreign countries, there are people who have just been introduced to a specific phase of this Miracle Revival ministry. Some people have heard their parents or grandparent's talk about the Allen tent meetings or the Revival Hour radio broadcast. Others may remember "Miracles Today," Rev. Allen's weekly telecast on their local TV channel. Many people are still interested in A. A. Allen's marvelous sermon records, while others request information on the Miracle Revival records with lively music, recorded in the services.
We have heard all kinds of stories about the mighty anointing of the Holy Ghost that people felt as they heard or as they read about this great evangelist and his ministry. Many people have been stirred by finding some old Allen Miracle Revival tracts, some of Brother Allen's sermon books, or "Miracle Magazines." Friends of Evangelist A. A. Allen and his ministry down through the years have followed the growth of this former worldwide, miracle-working ministry, and they know all about "God's Man of Faith and Power."
To those of you who have just discovered Evangelist Allen – his ministry of compassion to the unsaved, the sick, the suffering, and the demon possessed – I would like to share with you some outstanding facts.
---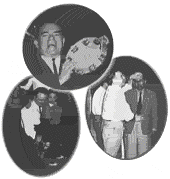 He was one of the ten most influential ministers in the world.
He is the author of more than fifty books, covering every phase of faith – Christian Living – Healing – Demonology.
He was a minister who dared to break away from the tradition of the elders to preach the same message that Jesus preached.
It has been said that beyond a doubt, A. A. Allen had prayed the prayer of faith for the healing and deliverance of more people than any other known evangelist alive in the world today.
News headline of the Atlantic Constitution, dated May 5, 1969, "The Hottest Faith Healer in America Since Oral Roberts . . . ".
According to TIME Magazine in an article dated March 7, 1969, this evangelist is probably the best known so called "Faith Healer " in the nation today.
He was a man who fasted and prayed until he met God, and received not only power and authority over all sickness but power to cast out devils as well.
He was a recognized authority on demon oppression and possession. It was said that he cast out more demons than any other minister in the world today.
Many times, thousands answered a single altar call following Rev. Allen's preaching. It has been safely estimated that in the extremely close schedule (almost nightly) more sinners were genuinely born again in his services than in any other campaigns in the world. Bro. Allen strove to fulfill Christ's Great Commission through daily broadcasts, weekly telecasts, sermon record albums, personal ministering (sometimes three or more times a day), published sermons in tracts, books, and Miracle Magazines.
He was probably the first to preach to multitudes the great message, "Power to Get Wealth, How You Can Have It." God gave him the ministry of delivering people from the demons of poverty and bestowing the blessing of prosperity. He preached the great revelation that God wants His people to prosper, and has promised His children the "Riches of the Gentiles!"
He was the Founder and President of Miracle Revival Fellowship, an international Pentecostal fellowship of approximately 15,000 ministers.
From 1958 to 1970 Bro. Allen was Chairman of the board of Directors of A. A. Allen Revivals, Inc. with headquarters in Miracle Valley, Arizona, the fastest growing revival camp meeting center in the world.
A. A. Allen was the Founder and President of Miracle Valley Bible College in Miracle Valley, Arizona and of Miracle Revival Bible College in the Philippines.
He was one of the few preachers to ever leave an organized denomination and continue to be successful in an international ministry as an independent or nondenominational minister, exposing the sins of denominationalism.
He was no doubt the first evangelist on a national and international scale to preach integration to mixed multitudes in both the North and the South and be successful in integrating the races in worship under his huge gospel tent. It has been declared by leaders that the Allen Campaigns and his preaching have done more to make all "one" than any other single effort in the nation or world. Believers worshiped, sang, and shouted together. All new converts were baptized in the huge baptistery under the tent.
He had one of the world's leading evangelistic parties. Rev. Allen was the organizer of the Pool of Bethesda Faith Clinic, where the sick and afflicted came to obtain dynamic faith teaching for healing and deliverance.
This article is an excerpt from the July 1969 issue of the MIRACLE MAGAZINE and was updated for our use.